Peter Cusack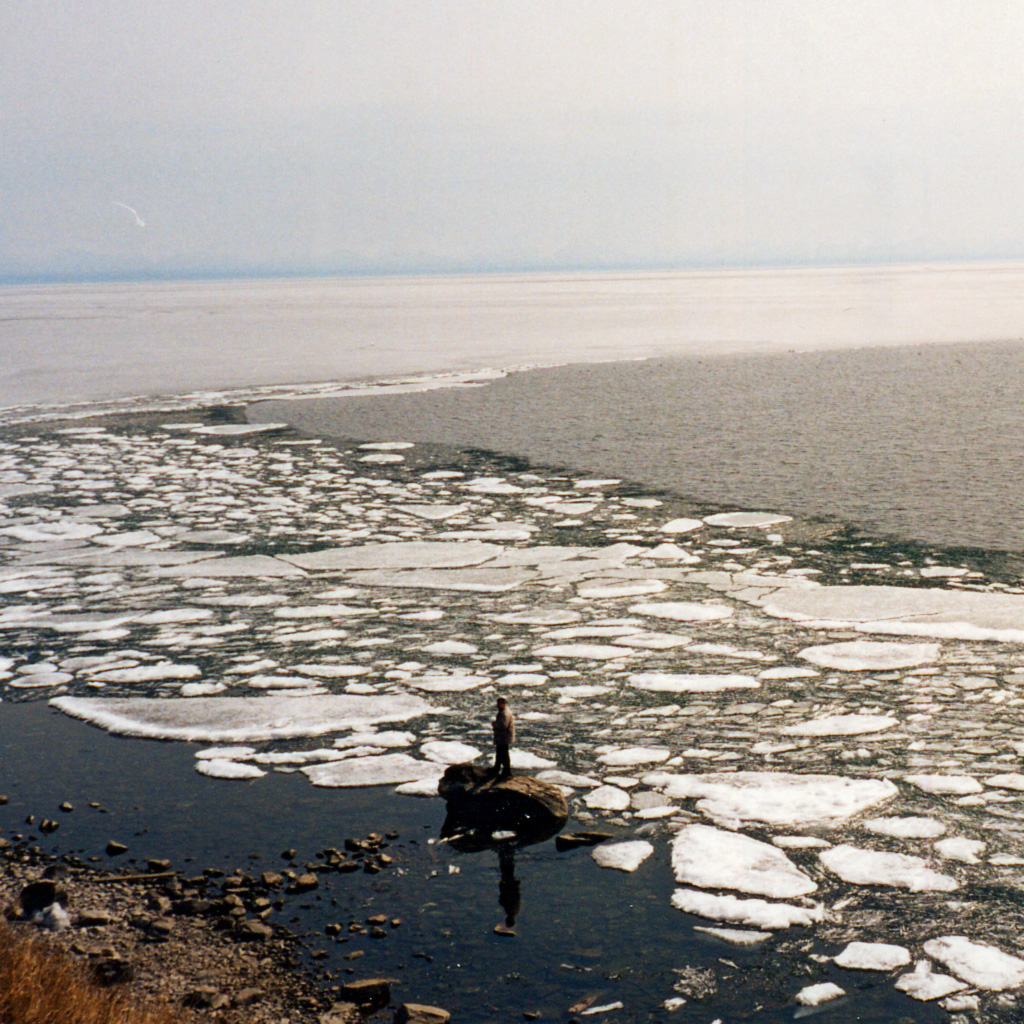 Baikal Ice
Lake Baikal – the pearl of Siberia – is uniquely special and beautiful place. Crystal clear and surrounded by mountains, it is the world's oldest and deepest lake and holds one fifth of the planet's fresh water within its 600 kilometre length. Its ecology includes many plants and animals found nowhere else on earth. The climate is extreme and in winter months the lake is covered by over a metre of ice strong enough to bear heavy trucks and, on one occasion, a complete railway. The ice can be so transparent that people suffer vertigo when looking through it into the depths.
I have long wanted to visit lake Baikal, but final decided to do so after chancing upon a brief internet reference to the mysterious ice sounds to be heard from autumn to spring. My trip to the lake's more accessible southern tip took place in April/May 2003, specifically to record the sounds of the springtime ice break-up. Although the melting process takes weeks there are a few days when the ice finally disappears and the lake become open water again. It is a spectacular and moving transformation. I had not seen nature operating on such a vast scale before. It is both stunning and humbling.
When melting the thick ice splits vertically into long icicles, which remain packed together in flows. At the edge they fall, sometimes as mini cascades, into the water and float in millions on the surface. The wind and waves jostle them together creating a wonderful sound that is so characteristic of the place and the time of year. The tracks played here are underwater recordings of two ice flows splitting apart. As the gap between them widens the icicles loosen and cascade into the water. It was unfortunately impossible to make a continuous recording of this as the microphone was gradually being pulled out into the lake. It had to be hauled in every now and again.
Peter Cusack is a field recordist, musician and sound artist with a long interest in the sound environment, based in Berlin and London. In 1998 he started the Favourite Sounds Project that explores what people find positive about the soundscapes of the cities – London, Beijing, Chicago, Prague, Manchester and Berlin – where they live. His project Sounds From Dangerous Places (described as sonic journalism) investigates soundscapes at sites of major environmental damage including the Chernobyl exclusion zone, the Caspian Oil Fields, and, currently, the Aral Sea. During 2011/12 he was a DAAD artist-in-residence in Berlin and initiated the Berlin Sonic Places project to consider the relationship between soundscape and urban development.