Wolfgang Voigt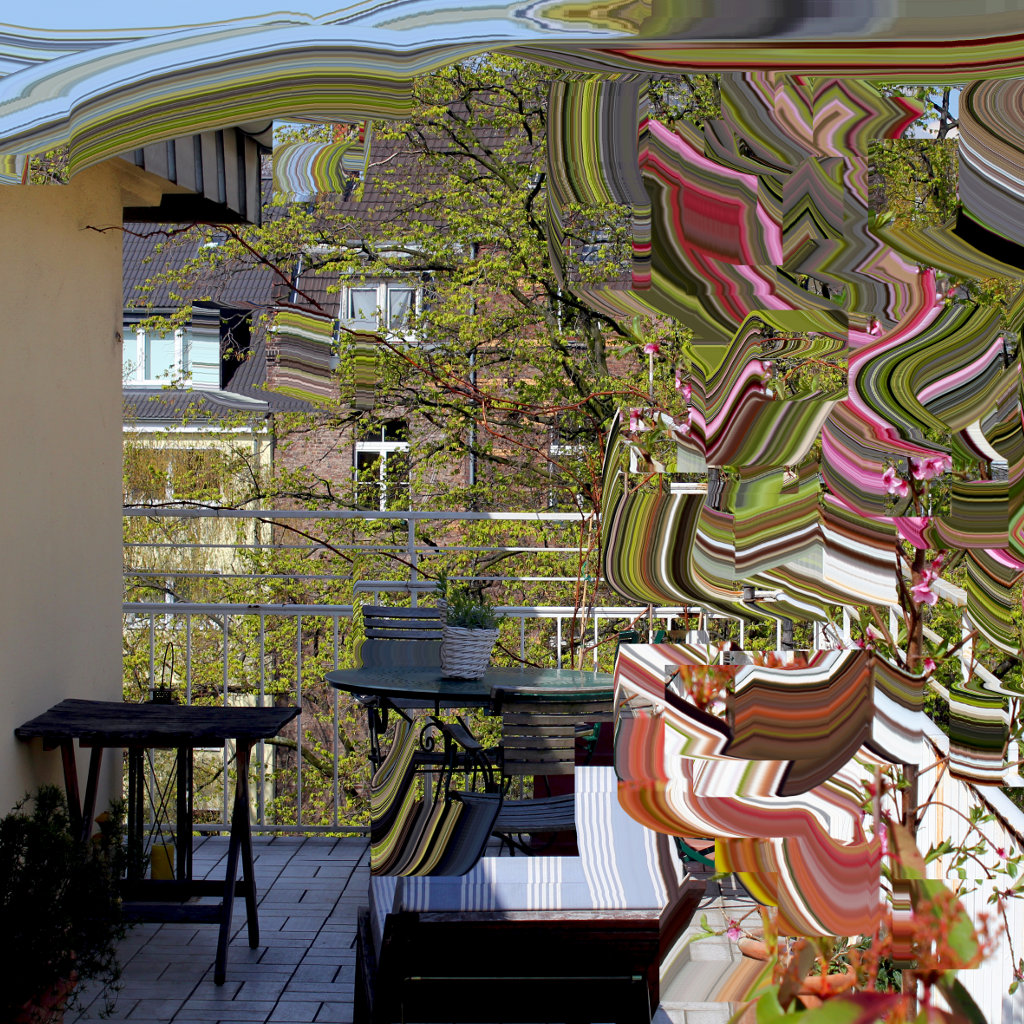 Zukunft Ohne Menschen
On the occasion of its 20th anniversary in 2013, the Cologne-based music label Kompakt was invited to contribute to the art fair, Art Cologne. For this event, Wolfgang Voigt designed a sound installation situated in the entrance area of the fair. In line with the cool steel and glass architecture, the abstract minimal machine-music flowed out of the manually operated arpeggiator. The music sounds as if produced by a random generator, but it is actually made by hand.
This sound installation was a component of a multimedia concept set up in ten parts, composed of music, videos, and digital painting, and titled ZUKUNFT OHNE MENSCHEN (WORLD WITHOUT PEOPLE). Voigt worked with photographs of urban environments, erasing all traces of people and text within the images using digital paint programmes, deforming them into abstraction. Voigt refers to this excessive style as mechanical painting, in which no real paint flows, everything is revocable, and the cursor (recorded while painting over the photos) looks like a garden hose out of control, boring through the picture.
The title ZUKUNFT OHNE MENSCHEN alludes to a TV docu-fiction, which phantasizes (in a not entirely serious manner) about the planet's future following the disappearance of mankind.
Voigt published a book (with an accompanying audio CD) documenting Z.O.M. via Profan, a sub-label of Kompakt, in September 2013. The installation Continuous Drift features a selection of four pieces from this release.
Wolfgang Voigt, born in 1961 in Cologne, Germany, is an artist, music producer, label owner and one of the co-founders of the Cologne-based electronica and techno label Kompakt. Grown up and socialized on the pop sub-culture of the 1970s and 1980s, Voigt has developed his own art and sound that cross genres, mixing music styles such as glam rock, pop, jazz, classic, punk, and new wave, and art movements such as pop art and the Neue Wilde (the 'New Wild Ones'). In the late 1980s, he caught acid house fever, and since then Voigt has committed himself uncompromisingly to the straight (techno music) bass drum. Inspired by the minimalist structures of this music, Voigt works around the most diverse facets of his own ideas of subversive concept disco music. He understands this kind of contemporary music as a non-verbal, international musical language in which origin, status, or rackstardom are no longer relevant. Voigt's contribution to the various global techno 'dialects' (Chicago, Detroit, Berlin, Frankfurt…) is Cologne minimal techno, of which he is considered to be the most important pioneer. Working under many different project names and pseudonyms (eg. Mike Ink, Studio1, M:I:5, GAS, Love Inc., Freiland, Wassermann…), Voigt has continually varied his own unmistakable music style from the onset of 1990s, spanning the spectrum from creating experimental and unusual hybrids by combining elements of techno with German Schlager and folk music, to pioneering, austere minimalistic concept techno series.